Uncategorized
Updated: May 14, 2021
Breakfast of Champions: Breakfast Hot Dog

Breakfast Hot Dog with Organic Valley and Niman Ranch. (Brioche Hot Dog Bun, Maple Bacon, Pork Sausage, Scrambled Eggs, Cheese, Local Pepper, Onion Chutney)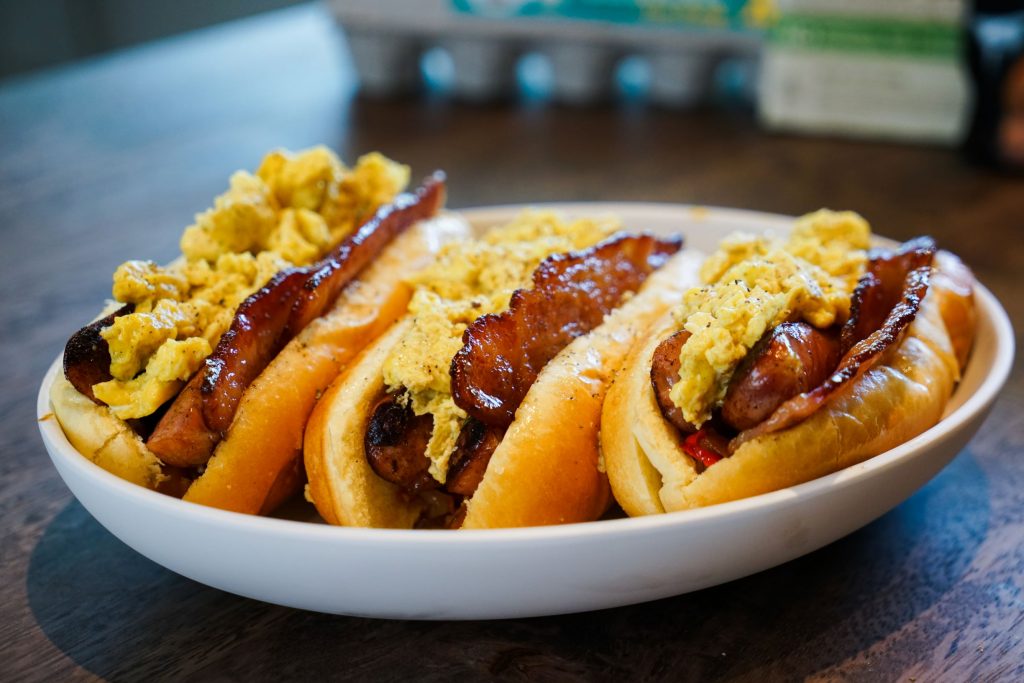 Ingredients
FOR THE EGGS:
6 large Organic Valley eggs, beaten
1/4 teaspoon Kosher salt
4 tablespoons Organic Valley milk
1 dash of your favorite hot sauce
1 tablespoon unsalted butter
Freshly ground black pepper
FOR THE CHUTNEY:
¼ cup olive oil
2 garlic cloves, minced
2 sprigs thyme, chopped
1 tablespoon fennel seeds
1 large yellow onion, julienne
4 cups assorted local peppers, julienne (plus one scotch bonnet, minced)
½ cup white wine
1 cup roasted tomato, chopped
1 cup sherry vinegar
¼ cup agave syrup
Salt & pepper
FOR THE BACON:
12 slices Niman Ranch Bacon
½ cup maple syrup
ASSEMBLY:
6 Bakerly Brioche Hot Dog Buns
6 Niman Ranch Maple Breakfast Sausages
½ cup shredded Cheese from Organic Valley
2 tablespoons Organic Valley butter
Chives, chopped
Method
FOR THE EGGS:

In a small bowl, beat eggs with salt, milk and hot sauce until no visible egg whites remain. In a small nonstick skillet, combine beaten eggs with butter. Set over medium heat and cook, stirring with a silicone spatula, until eggs are moist and just beginning to set. Remove from heat and continue to cook, stirring, until eggs have just set into soft curds; return to heat briefly if needed to cook slightly more. Season with pepper and serve right away.
FOR THE PEPPER CHUTNEY:
In a large saucepot, heat the olive oil. Toast the garlic in the oil with the thyme and fennel seeds. Once toasted, add the onions and slightly caramelize. Add the peppers and cook until slightly soft.
Deglaze with the wine and cook out until slightly dry.
Add the tomatoes, vinegar, agave, and season with salt and pepper. Cook on low until it becomes thick but still juicy. Taste to check the balance of sour and sweet.
FOR THE BACON:

Preheat oven to 325 degrees. Lay the bacon slices on sheet pans lined with parchment paper. Place parchment paper over the bacon and cover with another sheet pan. This stacking method will allow the bacon to cook flat. Bake the bacon until ¾ cooked, about 10-12 minutes. Remove from oven and brush liberally with the maple syrup. Bake uncovered for another 6 minutes or until crispy, sticky, and caramelized/candied.
ASSEMBLY:

To assemble your breakfast hot dog, cut the bun down the center top and lightly toast in the oven. Meanwhile, heat a skillet on medium-high and begin browning your sausage in butter, you may also split the sausage in half to get more sear. Assembly is totally your choice, though we suggest putting the chutney on the bun, then the seared sausage, bacon, soft scrambled egg, and cheese, melt the cheese in the oven and top with chives and any other sauces you enjoy.